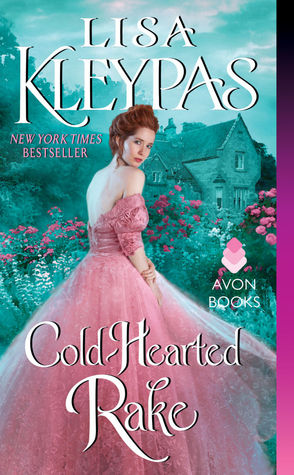 Well, guys, I've done it. I've discovered a problem with historical romance books. (This is somewhat facetious because yes, we're all aware that there are tons of problems with historical romance books in general and many more about specific books in particular, but still.) The problem is this: they have to be read in one go. You have to sit your butt down and read that book from beginning to end, or else it's way too easy to be jarred out of the story and, when returning to it, find the whole thing just too...something to bear. Too cheesy? Maybe. Too tasteless? Maybe that, as well. Anyway, they're very easy to just lose the entire
feel
if you have to stop reading, whether it's for work or dinner or bed, and I find that they're very difficult to get back into after you take that break. If you have a lazy Saturday and can plow through one (or two!) then great. That'll have to be my strategy from now on, because I was really on a roll with this one...until I had to go to sleep or face the consequences the next morning, and when I picked it up the next day, I'd totally lost it.
Sigh.
Okay, so, on to the book itself. First, I know that authors don't really get a ton of say in their titles, but really, can we stop having titles about rakes in historical romance? The men referred to in these titles
very very
rarely are rakes in any real sense of the word. It's just a cheap stand in to make a guy seem darker than he really is. Devon, the hero of
Cold-Hearted Rake
, is neither cold-hearted (well, maybe at first, but certainly not for the vast majority of the book) nor a rake. So it's kind of silly to refer to him as such. He even blatantly
says
he's not in the book. Now that that's out of the way... This book is about Devon, the new Lord of Trenear, who came into the title after his cousin unexpectedly died in a riding accident, and Kathleen, said cousin's widow. But not
really
his widow because she'd only been married to him for three days when he died and she didn't even really know him before that. So legally, yes, widow. Emotionally, not so much, though she does bear some guilt for the accident that killed him and goes about blaming herself for it. Devon doesn't want the responsibility of the estate he's inherited and plans to sell it, putting Kathleen and her three sisters-in-law (Devon's cousins) out of house and home in the process. Initially, of course, he doesn't care about this, but Kathleen, in the way of true historical romance heroines, changes his mind by winning his heart without even trying. Devon, of course, turns out to be an excellent estate manager, the family comes into a ton of money unexpectedly, and everything works out swimmingly.
Overall, I don't think this is Kleypas' best work. It's really setup for the rest of the books in the Ravenels series, which will focus on Kathleen's sisters-in-law, Helen, Cassandra, and Pandora--and it reads like a set-up book. All three of the Ravenel girls were more interesting than Kathleen was, and the start of Helen's romance with Rhys Winterborne (which takes up a good part of the second half of the book) was really more intriguing than Devon and Kathleen's romance. Granted, I'm
definitely
more than a little put off at how slimy Rhys acted in the end; we'll have to see how Kleypas resolves that (or doesn't) to see if he can be forgiven; various apologies will have to be given at the very least if he's to be redeemed into a likable hero for
Marrying Winterborne.
Devon was also an ass at more than one point in this, and I'm not convinced that he really came back from it. His reactions to various situations at various times were far less than heroic, and the way he talked to Kathleen at times was...creepy. Very. I mean, it's obvious from
his
POV chapters that he wouldn't actually hurt her or anything, but that doesn't meant that
she
knows that and it doesn't mean that it's okay for him to say stuff like how her only choice is to go to bed with him before or after they talk, not whether she has a choice to sleep with him at all. I wish Kathleen had been a bit more strong-willed in making Devon respect her, or that Devon had come around to that himself; I'm not convinced that he ever really
did
respect her.
This book...wasn't that great, honestly, considering the reservations I have about the characters' actions throughout. HOWEVER, I love Kleypas in general, and I think the
other
characters in the series have more potential than Kathleen and Devon did from the get-go. I
definitely
want to see what happens with Pandora (and West; is West going to get a book?) and I'm interested in seeing if Kleypas manages to transform Winterborne as well, so I'll probably keep reading the series, though it's not one I'll rush out to buy the moment each book hits the shelves.
2 stars out of 5, but I think there's room for improvement in the series as a whole.