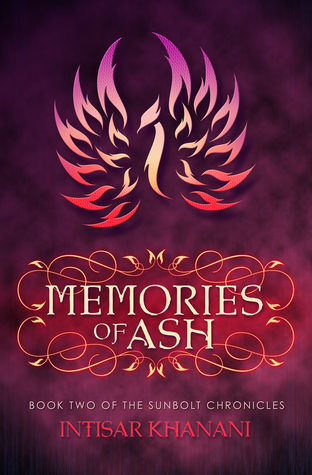 Let me start by saying this: Intisar Khanani is my favorite indie author. I read her first book,
Thorn
, several years ago in one breathtaking sweep. It was exquisite. Khanani has a way of creating a world and characters who are real and who hurt and struggle just as we do, and who can also thrill in their successes and cling to the hope of the future. Her books are not light-hearted or funny, but her words are poetry on the page, and
Memories of Ash
continued this tradition. It follows in the wake of
Sunbolt,
a novella about a girl whose magical powers have been kept secret in a world where magic is regulated. As a member of the Shadow League, Hitomi helped to work against Arch Mage Blackflame to counter his injustices. In the process, she is captured and has to work not only to save herself, but to save a breather named Val, who could end her life with just one inhalation.
Memories of Ash
picks up one year after
Sunbolt
ended, with Hitomi still recovering from the memory loss incurred by her sunbolt spell and learning magic from Brigit Stormwind, a loner mage who has taken Hitomi under her wing. But Stormwind and Hitomi's lives are thrown into chaos when a rogue hunter shows up and takes Stormwind away on charges including treason. Hitomi is left behind, her magic still a secret, but she quickly resolves to go after Stormwind and free her, because the charges are obviously trumped-up and will result in nothing but pain for everyone involved...
except
Blackflame. Along the way, she visits the Burnt Lands, an area that was destroyed by mages hundreds of years before, and discovers a new talent for unraveling spells that lands her some assistance for the future. A few characters from
Sunbolt
show up, as well, and we get to see more about the high-up workings of the Mage Council and a magic school for non-hidden mages. This is marvelous world-building, but none of it feels superfluous. It's all very tightly-knit, just as
Sunbolt
and
Thorn
were. Hitomi also grows immensely as a character here, both magically and personally. Magically, she continues to learn new spells and magical manipulations and discovers new talents which have looming potential but may never be fully recognized. Personally, she moves to accept that she may never truly know the details of her past again, but that her amnesia doesn't have to be a chain that binds her from moving forward.
"I cannot ever truly know who I was. It's time to discover who I may yet be."
And, perhaps best of all, we get to see a handful of characters who first appeared in
Sunbolt!
They appear in different capacities, but they are there, and I really enjoyed seeing them again. Khanani also introduces a couple of new characters who I think will make appearances in future books, as well. Oh, and one more thing:
Sunbolt
was a novella. It was delicious, and far, far too short.
Memories of Ash
is equally delicious, but it is a full-blown novel. I mean, I could easily still complain that it's far too short, because I would
love
to see what happens to Hitomi next, particularly regarding some things that were set up in the first half of this book, but I don't think that would really be fair. It's 359 pages of beautiful writing, compelling characters, and breathtaking worldbuilding. I can't wait to see these characters again, and see what else Hitomi's world has in store for her in the ongoing fight against Blackflame. Unfortunately, it will probably be a while until that next installment comes out, but some things are worth waiting for.
Memories of Ash
comes out tomorrow, May 30th, which gives you just enough time to snag the 142-page
Sunbolt
and read it tonight! And if you do...
"Run far, run fast, and keep the wind in your hair."
5 stars out of 5.
I received a free advanced reader's copy of this book in return for an honest review, but I have had it pre-ordered since the pre-order went live; this is a book I consider well worth the money.