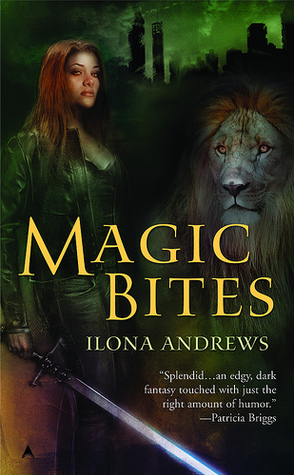 Magic Bites
was a book that repeatedly came up on lists of paranormal romances that I was perusing, along with a ton of Patricia Briggs books. It's also apparently won some sort of online tournament for best romance book. This confuses me, because while this is a fun paranormal mystery, it's not really a romance. The main character goes on a few dates, but they're half-hearted at best and don't really involve any
actual
romance. Because I was specifically looking for paranormal romance, this disappointed me, but I enjoyed the book as a whole all the same.
Kate Daniels is a semi-broke young woman working for the Guild, a sort of mercenary society, and living outside of Atlanta, Georgia in a time when technology is quickly losing ground to magic, which does things like make tech unusable and devours skyscrapers in addition to making things, well, magical. Vampires and shapeshifters are real--and actually some of the strong parts of the book. Vampires here were interesting in that they're completely mindless, possessing only a blind bloodlust, unless they're piloted by a Master of the Dead, who is a human with necromantic magic that trends toward the control of vampires. And shapeshifters come in many, many varieties, not just wolves. There are also other magical creatures out and about that I haven't encountered in fantasy before, which was interesting and I think a nice touch to make this book stand out--it reminded me of Liz Copen's
Guilty by Association
and its sequel more than anything else, which was good because I really liked the Judah Black books (and am looking forward to more). When Kate's long-time guardian is murdered, she takes on the investigation on a pro-bono basis for the Order, a group of magical knights, in an effort to find out what actually happened. Along the way she finds herself dating a plastic surgeon who does reconstruction on cadavers, and tangled up with the Beast Lord, Curran, who is a lion shapeshifter (hello, cover!) and rules over the rest of Atlanta's shifters, known collectively as the Pack.
Atlanta is a setting I haven't seen used a lot in paranormal fantasy, so that was interesting, and so was the use of a world in which technology is on a slow slide into obscurity while magic reigns supreme. Andrews puts out some interesting explanations for why magic affects certain things as it does, which shows me that she put some thought into her world building. And Kate is a cool heroine, armed with a magical sword called Slayer and trying to take on the world on her own, though she's smart enough to not turn down help when it's offered. One thing that I did find a little eye-roll worthy here is that, ultimately, the plot does revolve around Kate being The Best (because no heroine can only be average, right?) and someone wanting to impregnate her for that reason, which seems like a bit of a tired trope to integrate into what was otherwise a very interesting plot and world. Curran was
very
cool and I was disappointed that this didn't turn into the romance that I'd thought it would; I guess Andrews draws it out over the course of the series? This partly makes sense (you want to keep up the romantic tensions) but is also frustrating because I've seen how well a romance can be played out over the course of a lengthy series even though the characters get together in the first book and stay together throughout (Rachel Caine's Weather Warden series comes immediately to mind in this regard).
Still, I think this was a good book; it kept me reading a little later than I would have normally stayed up, and I think it sets up the rest of the series well. The unusual elements combined with a solid main character are a good premise, and I'm looking forward to reading at least the next book,
Magic Burns
, though I can see myself losing patience with this "oh it's a romance but there are NO ROMANTIC ELEMENTS" mentality eventually if it continues.
3.5 stars out of 5.