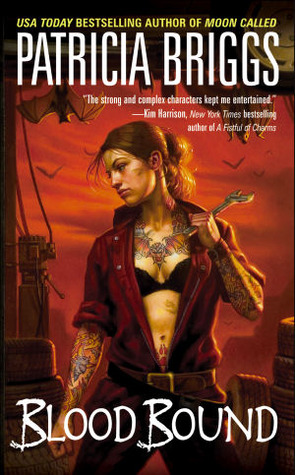 Let me tell you, the covers of this series drive me crazy.
No one dresses like that to fix cars OR to fight evil.
Since this is a series that's pretty clearly aimed at women, I am baffled that it's marketed so blatantly to men in the cover department. But I picked it up anyway, because it was available from the library, the first one was okay, and I needed a paranormal romance title for the Unapologetic Romance Readers' 2017 Reading Challenge. (For more information about that challenge, you can check out our forum
here
.)
This book finds Mercy repaying a favor she owes the vampire Stefan, and getting mixed up in the hunt for a demon-possessed sorcerer in the process. Meanwhile, she tries to balance Samuel, her werewolf roommate who she was at once point in love with, and Adam, the sexy werewolf Alpha of the local pack. And there are definitely some indications that Stefan might have some romantic feelings towards Mercy, too. Hm... I'm not sure how that works, being as Briggs has pretty clearly laid out that vampires in her world really
are
dead, but I guess it does, somehow.
Anyway, I do like Mercy as a heroine. She recognizes her strengths and weaknesses, and she does her best not get in the way when she realizes that something is above her abilities. Does she ultimately get involved? Yes. But she does it only when she sees that she's uniquely suited to solving the problem and when pretty much everyone else qualified to go in on it has either been devoured by it, or refuses to get involved...and when everyone she loves seems to be in danger. She's also doing her best to figure out the Adam/Samuel thing without unnecessarily hurting anyone or having to give up any of the things that are important to her. The way she and Adam interact is absolutely delightful. They banter, they annoy each other, they sometimes infuriate each other, and yet they also want to kiss each others' faces off at the same time. Adam had claimed Mercy as his mate prior to the series starting, supposedly to keep her from getting in trouble with the other wolves, who would otherwise kill a coyote shifter like Mercy--and yet those very wolves seem to recognize her authority as his mate anyway, indicating there's probably something more there. Very interesting...
The romantic tension isn't resolved here, and the main plot is bloody. Very bloody. It's indicated that probably forty more more people have died by the time it is. In the process, Mercy gets pretty messed up and also opens a door that can't be closed, hinting at a lot of turmoil involving vampires in the very near future. It's hard to say a lot more about this without involving a lot of spoilers, but suffice to say that I really liked it, and it definitely intrigued me to read more of the series, much more so than the first book did.
4 stars out of 5.