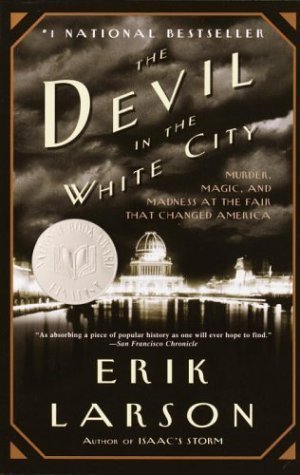 Not too long ago I read Erik Larson's
Dead Wake: The Last Crossing of the Lusitania
, and I really loved it. It's a great example of a narrative history and how history can be absolutely enthralling. I'd had
Devil in the White City
on my list for a while, even before reading
Dead Wake,
and while out to dinner with a friend it was brought up--so I bumped it up on my list. The book chronicles the building and running of the 1893 World's Fair in Chicago, which became known as the White City due to the color of the huge, majestic buildings built for the fair.
I almost started by saying that they just don't do World's Fairs anymore...which would have been very stupid of me because another friend actually just spent the entire summer in Milan for Expo Milano, this year's World's Fair/Universal Exposition in Milan. Maybe the thought I'm trying to grasp is that they just don't do World's Fairs
like they used to
anymore--there are no more Eiffel Towers and giant Ferris wheels to dazzle us. While I'm sure the Expo was awesome, there's just something magical about reading descriptions of what the architects of the White City achieved. And there's something very creepy about the other story that's twined through the story of the White City--the story of the devil, H. H. Holmes.
Now, did these stories go together? Yeah, I guess. I mean, Holmes built his murder hotel specially to lure women arriving in Chicago to see the White City--but he'd begun his killings before that, and other than taking a love interest and her sister to the White City, he didn't have much to do about it. I think Larson mainly put these two narratives together to play off the whole darkness/light duality, which he does quite well. Sometimes, however, I felt like he was just using Holmes to add menace to the story he
really
wanted to tell, which was about the fair. I thought this because the bulk of the book is about the fair--those chapters are much longer than the Holmes chapters in general, with the exception of the chapters regarding the eventual investigation into Holmes' devious doings. For the most part, Larson's attention is on the building and running of the fair--which makes the title a little disingenuous, though titles are generally the publisher's decision and not the author's.
I knew about the
Lusitania
before I read
Dead Wake
; I didn't know about the White City and H. H. Holmes before I read this book, so it was educational. This is a great book for people who like history but don't live heavily-academic works; I would totally ask for this, or give it, as a Christmas present for someone like that. It's a great, fast read (despite being almost 400 pages; they go quickly) and I thoroughly enjoyed it.
4 stars out of 5.