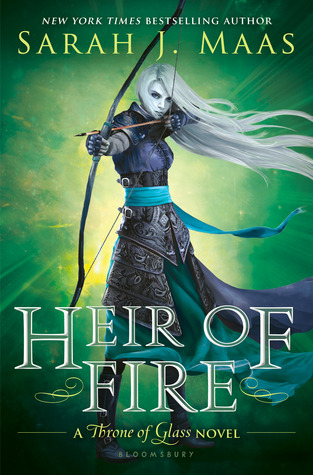 I have to admit, Sarah J. Maas surprised me with this one.
At first, I thought I was going to hate
Heir of Fire.
The book starts with heroine Celaena, an unstoppable assassin and secret princess, yadda yadda yadda, basically reduced to the status of a drunk wallowing in her own self-pity. This is not a flattering depiction, obviously, and since Celaena spent most of the first two books in the series entrenched in a "woe is me" act, I was convinced that I was about to see an escalation of it on a massive scale. This did not hold much appeal to me, and I actually put the book aside for a bit to read something else because I was so frustrated. But I've always thought that Celaena's story as a
whole
had a lot of potential, even if the girl herself was pretty much insufferable, so I went back and started reading again. And what do you know? I
liked
it.
Heir of Fire
finds Celaena in Wendlyn, the continent across the ocean from Adarlan. She's been sent there to kill the royal family and find a way for Adarlan to invade through Wendlyn's supposedly-impenetrable barrier reefs. Instead, she has decided to wallow in her self-pity for not being able to save her friend and her country and all of the stuff that happened in her childhood and
Crown of Midnight.
But then! But then Rowan, a Fae under the orders of Celaena's many-times-great-aunt Maeve, the Fae queen, shows up and drags Celaena off to meet Maeve herself, who tells Celaena she'll answer her questions, but only once Celaena proves herself worthy by mastering her magical abilities. Maeve sweeps off, and Rowan starts trying to whip Celaena into shape. For the most part, this is not an interesting process
(which is probably why Maas bulked it out with all the other story lines) but the
idea
behind it is fascinating, because this is where I think Celaena actually started to become a likable character. It's like Maas realized how insufferable Celaena was and spent the later half of
Crown
breaking her down so that, in
Heir
, she could rebuild her.
Granted, this isn't an
entirely
successful rebuilding. When I finally got to the deep, dark thing that Celaena swears will make her snap if she faces it, I was left going, "Huh? That's it. Lame. So many worse things have happened to you, and you've done so many worse things yourself, and
that's
your dark secret?" She certainly still has her whiny, bitchy moments, her extreme pettiness that hurts the people around her for really no reason at all. But for the most part, I think Celaena has actually become a character with potential and who can carry a story all on her own, without the need of a cast of characters supporting her every action--a transformation that was necessary because she was the
only
main character in Wendlyn. Everyone else was still back in Adarlan.
Let's talk about those Adarlan people for a minute. We have Chaol and Dorian, of course, at odds after the events of the second book, but we also have three new characters: Manon, the heir of the Blackbeak clan of Ironteeth witches; Aedion, Celaena's cousin who is now one of the King of Adarlan's prized generals; and Sorcha, a healer who works in the palace. As things begin to unravel and wind together at the same time, we learn that Manon's job of becoming a wyvren rider, along with the rest of the Ironteeth witches (who were very cool in general) might be revealing her to have more of a heart and conscience than she would like to admit; that Aedion isn't all that she appears; and that Dorian isn't still hopelessly hung up on Celaena, which was nice to see. I like when characters have relationships that don't work out, and move on to other people, because that's how life is. In the first two books of this series, I really felt that these other characters were the people who made the story likable in the face of Celaena's awfulness; now, however, I found them to be, overall, pretty boring, and I always wanted to skip ahead to see how Celaena's transformation was going instead. There were
some
intriguing bits in Adarlan, mostly at the end, but the Adarlan-based stories weren't nearly as compelling as the process of Celaena actually
becoming
a heroine.
I also think that this book could have ended about fifty pages sooner, total. There were some really dull denouement bits at the end for all the story lines, and while some interesting things happened, I think they could have been backed up into the earlier parts of the book and the boring bits chopped without it really suffering any damage at all. I guess Maas didn't want to leave readers with a cliffhanger, which I respect because cliffhangers are the
worst
, but I think it could have been worked out to have a conclusion, if maybe an implied one, without all the outright revelations at the end.
Still, I think this book was much stronger than the first two on the basis of Celaena alone. The story greatly diverged from the Fictionpress version here (which made me a little sad, because I liked poor crazy Cindrillion, who dressed her mice and bird friends by breaking their limbs so that they'd fit into the clothes she made them; disturbing, yes, but also an interesting Cinderella dynamic) but I understand why Maas is going farther and farther away from the draft, still taking a few key things that happened but weaving what's pretty much an entirely new story from them.
I just wonder if the ending will be the same...
4 solid stars out of 5.