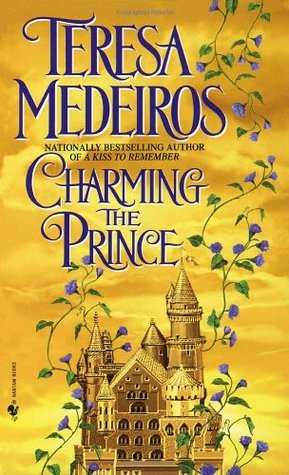 Charming the Prince
was the main buddy read for August in the Unapologetic Romance Readers group on Goodreads. (We also have a bodice ripper for this month, which I'm planning on reading as well.) It's supposed to be a historical romance Cinderella retelling, though honestly the "historical" and "Cinderella retelling" parts are painted in with only the broadest strokes. The main plot follows Branson, the bastard-born lord of some lands in the fourteenth century and Willow, the daughter of another lord who lost all his money and married a rich widow, bringing her and her posse of children into his home. Now, years later, Willow has basically been relegated to a servant, taking care of her step- and half-siblings, until Branson's men show up at her father's holdings looking for a wife for Branson. He has specifically requested someone who is "maternal" and "bovine" who can act as a mother to
his
posse of children, numbering around a dozen, while not awakening his lusts at all, because he doesn't want
more
children; the ones he have terrify him enough. Due to a bonnet and an apron full of apples, Willow is mistaken for being both maternal and bovine and has been married off before Branson's representative really realizes his mistake. The rest of the book consists of Branson coming to terms with his children and Willow and Willow trying to get Branson to appreciate her for herself, which no one has done in a long time.
The writing here is decent, and some of the incidents involving Willow and the kids were amusing, but overall I don't think this was anything remarkable to write home about. The whole "Branson is so fertile he can get you pregnant just by looking at you" thing was way overdone, especially considering some of the information that comes out later in the book. There's also a subplot involving one of Willow's stepsisters, who stows away in her luggage and ends up being present throughout the book, and who wants to marry Branson herself. That felt overly contrived and, honestly, didn't add anything to the book--nor did the whole creepy stepbrother thing. The "historical" setting lends nothing because it's sketched in very lightly. The main thing the setting does that I can think of is help distinguish this book from the more plentiful Regency romances we normally see, which are set several centuries later. That
did
make for a nice change, but I don't think it was so terribly important to the plot or characters. Honestly, I feel like this could have been placed in almost any historical era and would have varied very little because of it.
The romance was nice, but again, nothing stellar. Branson and Willow were immediately attracted to each other and
wanted
to like each other but also didn't at the same time, which was weird. I think the ongoing "conflict" between them, which mainly consisted of "warfare" between Willow and her forces (the kids and her stepsister and some of the servants) and Branson and his forces (his men) was honestly the most amusing part of the book. Once it ended, the whole thing got rather bland rather quickly. There was some nice kissing, but honestly this is something I think the setting worked against--drafty castles with straw strewn everywhere, no matter how clean, don't really strike me as romantic.
Overall, I don't think this was anything special. It was an okay romance, but just okay; the "Cinderella" plot it purported to have was barely present, most of the characters were just meh, and despite the title, there wasn't a prince anywhere in sight. I wouldn't be totally opposed to reading something else by this author, but she's not someone I'll be purposefully seeking out anytime soon based on this book.
2 stars out of 5.