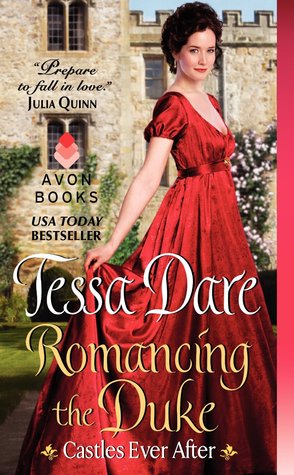 Romancing the Duke
and its companion book,
Say Yes to the Marquess
had both been on my radar for a while because they've both popped up in the bargain book emails I receive daily. That said, I never actually got either of them, because I haven't had extraordinary luck branching out into "new to me" authors of historical romance. I mainly stay with my main girls: Julia Quinn, Eloisa James, Lisa Kleypas, and Courtney Milan. When I've tried branching out, I've mostly found the results to be lackluster at best. But the
third
book in this series,
When A Scot Ties the Knot
, came up in discussion in the Unapologetic Romance Readers group on Goodreads and was pretty highly praised by several of the group members. I decided to look into it at some point--and shortly thereafter found out that my library had all three of the Castles Ever After books available through Overdrive for Kindle. Score! I checked out all three and set to reading.
Romancing the Duke
is the first book in this set of related-but-not-related stories. What I mean by that is, the stories are related in that they all share a premise and a common source: a young woman has been gifted a castle by her godfather and goes to take up residence in it to start her "own" life, as she has firmly set aside dreams of getting married. In this case, the young woman in question is Isolde "Izzy" Goodnight, the daughter of a famous author who made her a character in his tales, and then died when the characters were left in a variety of perilous positions. She's penniless, her cousin having inherited everything of her father's, though she has devoted followers across England who associate the name Izzy Goodnight more with the little girl in the stories than with the real woman behind the name. She's
very
relieved to find that her godfather has apparently bequeathed her a castle, because now at least she has somewhere to live, decrepit as it may be. She's somewhat less pleased to find that it's already inhabited, and by a surly though devastatingly handsome duke, no less.
Ransom Vane, the Duke of Rothbury, is equally displeased to find that a young woman has turned upon his doorstep to take possession of his castle--a castle he never ordered sold. He's even less pleased when Izzy's followers start showing up and intruding on his brooding abode, because brooding is exactly what Ransom has been doing ever since he lost his fiancee and his sight in one fell swoop. Yes, you read that right: we have a blind hero, my dears. Ransom isn't
entirely
blind, his sight varying across times of the day from shapes and colors to nothing at all, but it's bad enough all the time that he's holed himself up in the great hall of the castle, a space he's memorized out of necessity, with no one other than his valet to witness his infirmity. And of course Izzy challenges all of that. She's determined not to leave, because where else would she go? And then there are her followers, who are entranced not only with her...but also, it turns out, with Ransom, because he closely resembles the hero of the Goodnight Tales.
I really liked this. I liked that we had a blind (or mostly blind) hero, because that's pretty unusual. Izzy, as a penniless orphan, isn't quite as unusual, and even the later revelations that are supposed to set her apart are a bit tropeish, but I do love a good trope, and I loved Izzy, too. Her sweetness and determination didn't feel fake, and while they're pretty much hallmarks of
every
historical romance heroine, I still don't find myself sick of them. I think there were enough interesting side characters to add flavor, but without needing to shoe in a useless subplot like so many historical romances try to do. The biggest subplot here is that someone has been skimming money from Ransom's accounts, and it ties back in nicely with the main premise of the book and how Izzy ended up at the castle to begin with, so it didn't feel out of place at all. But a word to the wise: if you're hoping to see stories regarding those side characters, don't hold your breath, because it hasn't yet happened, something that I consider to be a shame because some of them are just
great.
The setting here has a lot going for it, too. It's a real Beauty-and-the-Beast style castle, with bats in the chimneys and the whole place in disrepair from years of neglect. It's kind of a refreshing change from the fancy manors, estates, and townhouses of most historical romances, though I do, of course, love those as well.
Overall, I adored this. It was a delicious, quick read, as historical romances are meant to be, and Tessa Dare has definitely earned herself a spot up with Quinn, Kleypas, James, and Milan as an author to look out for in this genre.
4 stars out of 5.