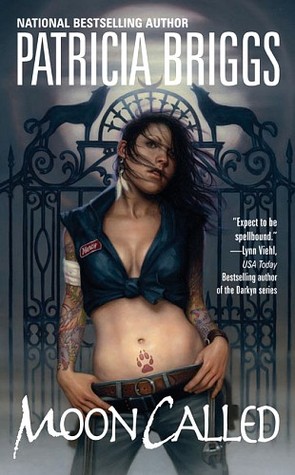 On my search for a good paranormal romance, Patricia Brigg's
Moon Called
showed up at the top of many lists. So, of course, I got it from the library. Well, Mercy is an interesting character (who does not dress anything like the woman on the front on the book, btw, being more sensible than that) whom every male she encounters wants to have sex with, and yet this still avoids being a paranormal romance. Presumably this is at the top of so many lists because it sets up for romance later in the series, but I still feel terribly misled by those list-creators.
Putting that aside, let me talk about the book itself. Mercy Thompson lives in Washington state where she owns an auto shop and tries to avoid too being found out as a skinwalker. In Mercy's world, "lesser" fae have been forced into the public eye by their leaders/overlords the Gray Lords, but other supernaturals such as vampires, werewolves, and Mercy herself have managed to remain out of sight and out of mind--at least for now. But when a young werewolf shows up at Mercy's shop looking for a job, it sets off a chain of events that might hint at the end of this secrecy, or something even more sinister.
Mercy has an interesting past. Despite being a skinwalker, she was raised by werewolves, and not just any werewolves but the pack of the leader of
all
the werewolves in North America. She left them when she was a teenager and hasn't been back since, but that's another area she gets pulled back to when the leader of the local pack, who is also Mercy's neighbor, is almost killed and his daughter kidnapped. So Mercy heads to Montana, and then back to Washington in the company of not only Alpha Adam, but her old flame and the son of the werewolf leader, Samuel. Both of whom, of course, want to get in her pants. Sigh.
I liked Mercy and I liked Samuel and Adam, despite their constant posturing over her attentions (which she doesn't really deign to give). I found the lack of other compelling female characters strange; all of the females in the pack she grew up with hate her because apparently she can have children and they can't, which is female bitchiness at its best. Jesse, Adam's daughter, is great but gets very little page time being as she's, you know,
kidnapped
for most of the book. And while I liked the beginning of the plot, by the end I found it had wrapped itself up into a convoluted mess. "Convoluted" is actually a word Briggs
herself
uses to describe the plot in another book, which is maybe an indication that it should have been set out a little differently. Everyone seems to flip-flop on what's happening so many times that even when they laid it out in the end, I wasn't entirely convinced as to what was actually going on. And ultimately, I don't think this book was
memorable
. It's kind of another generic paranormal mystery and didn't really leave me dying to know what comes next for Mercy or her harem of would-be-lovers.
3 stars out of 5, and I don't think I'll be picking up the next one any time soon. This just isn't what I'm looking for in a paranormal series.