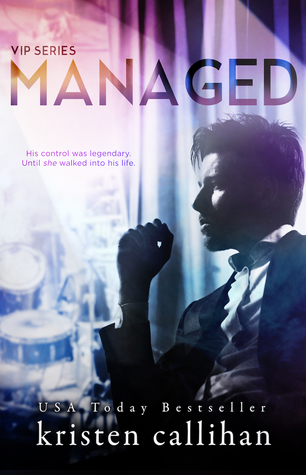 Now let me tell you,
this
is a properly-done slow burn romance! I thought Mariana Zapata was queen of the slow burn, and she is excellent, but this blew
Kulti
and
The Wall of Winnipeg and Me
out of the water. Absolutely awesome.
So,
Managed
is the second book in the VIP series, but it's one of those series where you don't really
have
to read the other books--they give you some context, but you don't
really
need them. That said, I did like the first book,
Idol
so I'd say give it a shot. In this second volume, our hero is the manager of the hit band Kill John, Gabriel Scott. And our heroine is Sophie Darling, a social media specialist headed to London for a job interview. Sophie ends up in first class, much to her surprise, and next to Gabriel--who's very
not
happy about it and very surly and
very
afraid of flying. Sophie distracts him throughout the flight through blowjob jokes and forced snuggling, thinking that they'll never see each other again...except, of course, it turns out she's interviewing for a position with Kill John.
And
she's the one behind some rather nasty pictures of the band's lead, Jax, getting out a few years ago. It's awkward.
Sophie and Gabriel are attracted to each other right away, but Gabriel doesn't get involved with people in the band, and Sophie is also determined to remain just friends. Except a mean case of jet lag ends up in them not being able to sleep without each other. So she moves into Gabriel's bus. And they sleep. And the limits start getting pushed, and jealousies rise up, and it's all just so
delicious
. Just like with
Idol
, I found the conflicts realistic (for the most part) and the characters both believable and empathetic. And Gabriel is
British
which of course is awesome. There did seem to be some conflicts with the first book, though, particularly regarding the backstory of the band and how they got together--the story here seems distinctly different from the one Killian presented in
Idol.
Still, I absolutely loved this book. I devoured it in one sitting and can't wait for the others--and there should be at least three more! Yaaaas.
5 stars out of 5.