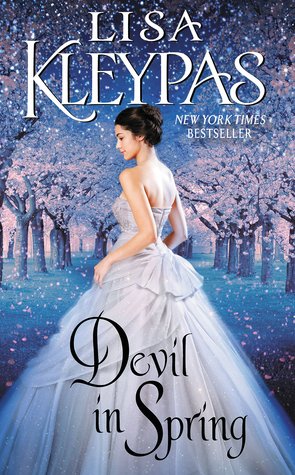 Devil in Spring
was an easy pick for us Unapologetic Romance Readers to take on for our March group read. (We'll also be reading
These Broken Stars
for our theme read, a sci-fi romance.) Despite it being a series, many of us have read the preceding two, and for those of us who hadn't, historical romance series typically don't require that you read all the books to get the gist of what's going on.
Continuing on with the saga of the Ravenel family,
Devil in Winter
finally turns to the twin, namely Pandora. And for the hero, we have Gabriel, who is the son of the main couple from Kleypas' earlier work
Devil in Winter
(hence the title). Though Gabriel isn't much of a devil at all. In fact, he's not much of anything at all, except boring as a brick and very occasionally controlling, which goes away in about five pages.
Gabriel and Pandora are thrown together when Pandora gets stuck in a settee in a secluded guest house at a ball, during an attempt to retrieve an earring a friend lost during a rendezvous. Gabriel helps her get out of the settee's evil scrolls, but they're found together and Pandora is, of course, instantly compromised. She doesn't want to marry him, though, because she wants to remain single so that she can retain full control of her burgeoning board game company, which she hopes to get going in the very near future. Though her family says they'll support her in whatever decision she makes, they also encourage her to consider Gabriel's offer, and to that end the whole family decamps to the Challon (what a terrible last name!) family residence on the ocean, where our former couple Sebastian and Evie are also in residence.
Sebastian and Evie remain far more interesting than Pandora and Gabriel were. Pandora was okay on her own, but Gabriel was bland, bland, bland. There's a dance scene in which "love magic" may or may not have magically solved some balance problems Pandora has--I'm not
entirely
convinced it did, because Pandora seems to be able to largely compensate for her inner ear issues with sight (hence why they bother her most at night, when she can't see clearly) but some group members insist it was love magic, and it might have been; it's a bit ambiguous but either way it was pretty eye-roll worthy. Of course one dance instantly persuades Pandora that yes, she can get married, even if it means losing her legal rights (which she would!) and so off she goes to the altar. The plot then devolves into sex (elevated from making out) and a harebrained plot involving Pandora being
targeted for assassination by a branch of the Fenian Brotherhood.
Yes. That really happens.
Overall, this series isn't doing it for me. I usually love Kleypas, but the first two books here were lackluster at best and boring at worst, and while I was hoping for improvement with one of the twins as a main character, that just didn't happen. Luckily there's only one more book in this series until Kleypas can hopefully move on to something that will recapture her old magic from the Wallflowers days.
2 stars out of 5.