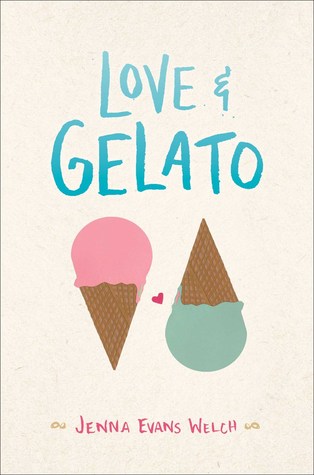 Love and Gelato
was on my to-read list because it was a Goodreads Choice nominee for 2016, and I'm always interested in what my fellow readers like, but I ended up reading it because it was a free full-length read on Riveted. Riveted is Simon & Schuster's young adult website, and every week they have free full-length reads as well as extended excerpts. They don't usually have a ton that I'm interested in, but I think it's very cool of them to provide free books to read online, without any sign-up fee or anything like that.
Anyway. The story is about Lina, whose artist mother dies of pancreatic cancer and sends Lina to the father she never knew existed, Howard. Except Howard lives in a cemetery in Italy, outside of Florence. Once there, one of Howard's friends and coworkers who also knew Lina's mom gives Lina a journal that her mom had mailed there prior to her death. Lina decides to solve the mystery of what happened between her parents by reading the journal and visiting the places her mother mentions in it with Ren, the cute half-Italian boy-next-door.
I get what this book was trying to do, but there have just been so many other books that have done its components better. Solving a family mystery across Europe? Try
13 Little Blue Envelopes
. Romance in a European city? Take
Anna and the French Kiss
for a spin.
Love & Gelato
tries to combine the two components but it doesn't snap or sizzle like the others do. While some interesting parts of Florence are mentioned, the city doesn't come alive like Paris does in
Anna
or any of the locations in
Blue Envelopes
do. And honestly, the setting is attempting to do the heavy lifting in this book. The thing is, no part of it is explored or celebrated fully enough to capture the magic that the author is trying to evoke. The other part of the book, the romance, is just a sidebar. It doesn't really develop until the last few pages, and as the entire book takes place over the span of about five days, most of which the characters spend interested in other people, it doesn't really ring true. There's no real chemistry between them. I think there could have been, easily, but it just never developed like I thought it was going to.
Overall, I was pretty underwhelmed by this one. If I hadn't read
13 Little Blue Envelopes
(or Johnson's other books--
Girl at Sea
is also excellent in this regard) or
Anna and the French Kiss
and its companions, which each evoke
other
cities, then maybe I would have been more impressed by this. It strives to be cute and sweet and mysterious and romantic, but I think it kind of fell flat.
2 stars out of 5.