It's been a long time since I've done a "Read This, Then That" post, but I've just had the most lovely pairing of books that I wanted to share it with you. Taking a turn to light sci-fi and post-apocalyptic fiction, but with beautiful prose and human elements, let's first take a look at a book from a few years ago. To start:
Read This...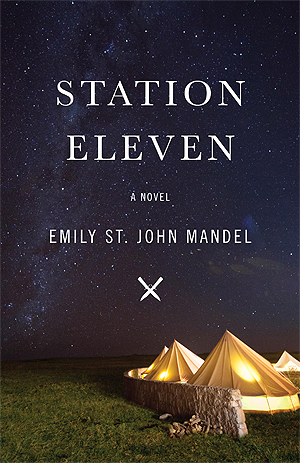 The world ends with the flu. Scattered survivors who evaded infection roam the desolated land; they live in airports full of planes that no longer fly and vending machines that have long been depleted. A travelling theater company provides entertainment for a world that is suddenly and tragically without much to laugh at. And a custom comic book is at the center of it all. A startling and yet beautiful look at the sudden disintegration of life and society as we know it, and what what might be left behind once many of us are gone,
Station Eleven
made waves a few years ago for its stunning prose, wonderful characters, and refreshing take on a post-apocalyptic story. With no zombies or nukes in sight,
Station Eleven
is about people far more than it is about plot, though there is a plot there. The parallels between the different parts of the story are breathtaking, building on each other to a whole that is so much more than the sum of its parts. There are
Star Trek
references: "Because survival is insufficient." And honestly, that's what this book is about--not just surviving, but
living
, even when everything that you've known has come to an end, and how people can come together, remember what was lost, but still move on into the future. And when you've seen what's happened at the end of civilization in parts of the world we're more familiar with...
...Then That
...move on to the ones that, to many of us, are Great Unknowns. Instead of travelling players and ad-hoc museum curators,
Good Morning, Midnight
focuses on an isolated astronomer left behind in the Arctic Circle when he refused to evacuate the observatory and the crew of the spaceship
Aether
, on the way back from Jupiter to a world that has suddenly and strikingly gone silent. This is also a story of parallels, of people desperately trying to reach out and connect--over the radio, physically, emotionally. And though the circumstances are bleak--the handful of characters on our pages might very well be the last humans alive, and most of them aren't even on Earth--the story manages to be wonderfully hopeful and uplifting. There is a story of redemption and new beginnings, of overcoming seemingly unyielding odds, and of coming back to a world that it seems like everyone else has, in one way or another, left behind. It has the same feel as
Station Eleven
does and it's easy to imagine them taking place in the same world, though of course miles and miles apart and with
Good Morning, Midnight
having a distinctly sci-fi slant that
Station Eleven
lacked. But ultimately, both books come down to this: The world is a strange place. The universe is an even stranger one. And people are looking for where they belong in both.