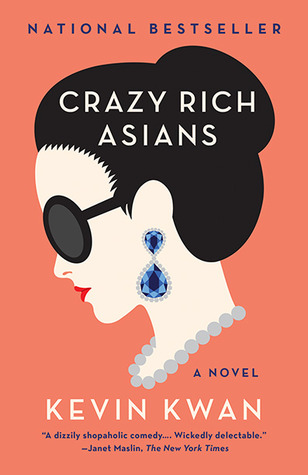 My first impression after finishing this book is that there should be a comma in the title. Or maybe not. Indeed, these Asians are crazy rich, with crazy being used as an adverb modifying "rich" to show the degree of their wealth. But they're also crazy as in
crazy
, meddling and pushing and driving people away. Wow.
This book is the story of several intertwined Singapore Chinese families and one normal Americanized Chinese girl who inadvertently stumbles into the middle of them. Rachel Chu is thrilled when her boyfriend Nick invites her to go to Asia for the summer--apprehensive, because she's never met his family before, but also excited, because she suspects this might be leading up to a proposal. But what she didn't expect was that everyone knew who she was before she even arrived, and they're ready to drive her out in order to preserve Nick for someone they consider one of their own. Rachel has few friends in Singapore, and though she tries to maintain firm, the forces against her sometimes seem insurmountable.
This was a very good book. It is, at its core, a family drama, but it's
funny
. It's kind of like
Gossip Girl
or something similar, but the characters are adults instead of teenagers. The drama is over the top, yes, and is in no way supposed to be representative of all Chinese society or Singaporean society or Asian society in general. But even when the characters are at their most back-stabbing and undermining, the drama still manages to be amusing, mainly because everything is
so
over the top. For a while, I was concerned that Kwan was really going to bring down the book with a realistic-but-unhappy ending; fortunately, that wasn't the case. Everything else was so crazy here, it didn't make sense to have a downer ending that suddenly fit the facts, so I'm glad that Kwan went the way he did. The writing is extremely readable, and there are lots of terms that are thrown in and foot-noted so that you know what they are. There's educational aspects about food, drink, and customs among the insanely rich in Singapore. Rachel, meanwhile, serves as our bridge character--the one who helps bring us into this ridiculous world while maintaining a sense of stability and normalcy. A character like this was
definitely
needed, or else all of the crazy might have just been too much.
It does
verge
on being too much at some points, and I had some doubts about some of the characters, like Araminta, so I'm not sure all of their intentions were clearly marked in the end. Close to the end, there's also a giant infodump to clear up a little plot involving Rachel's background and Nick's family's attempts to get rid of here. That really dragged down the pacing at a point that really needed it the
least
, the climax--the last thing you want to do at the climax of your story is dump in a bunch of background information that disrupts the flow, and that's exactly what happened here. Still, considering this was a debut novel, it was remarkably good! Such a funny story and family drama, with good central characters who help anchor all of the crazy ones and lend a sense of "down to earth" that was really needed to balance the plot. I am definitely looking forward to reading more from Kevin Kwan!
4 stars out of 5.